ECW 2022 GGAF Booth
09/28/2022| ECW
---
Emerald Coast Writers to Have Booth
At 2022 Great Gulfcoast Arts Festival
Based on the success at last year's festival, Emerald Coast Writers will have a booth at the 2022 Great Gulfcoast Arts Festival (Heritage Arts section). The festival will run November 4-6, with hours of 9:00 a.m. to 5:00 p.m. on Friday and Saturday, and 9:00 a.m. to 4:00 p.m. on Sunday. Any of our published authors with books to sell are invited to sign up for one of the slots at the booth. If you are an author with books to sell, come be a part of this wonderful event that celebrates the arts in Northwest Florida.
We hope you can find a time slot that works for you to participate in this popular event. See the full schedule at the link below and sign up for one slot or several. The ECW booth can accommodate up to three authors in each hour-long time period. Initially, please limit your sign-ups to no more than five time slots. As we get closer to the event, additional times will be available.
We will follow the same procedures as last year with all sales, including sales tax, made through ECW. Authors will receive funds from their sales by check from ECW. The booth, credit card payment process, and bags for purchases will be provided compliments of ECW with no charge to selling authors.
We need volunteers to help set up and take down the booth and volunteers to be sales cashiers during open festival hours. Cashier volunteers can sign up using the same author link above. For set up/take down, email us at
[email protected]
with subject line "GGAF Booth Volunteer."
Admission to the festival is free.

We encourage all members to stop by our booth, meet your fellow members, and buy a book!
To sign up, click the button and enter Access Code 1987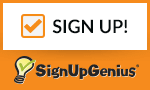 ---
---